Meet the Artist: Jenna von Benedikt
1/10/2020
"Study nature, love nature, stay close to nature. It will never fail you." - Frank Lloyd Wright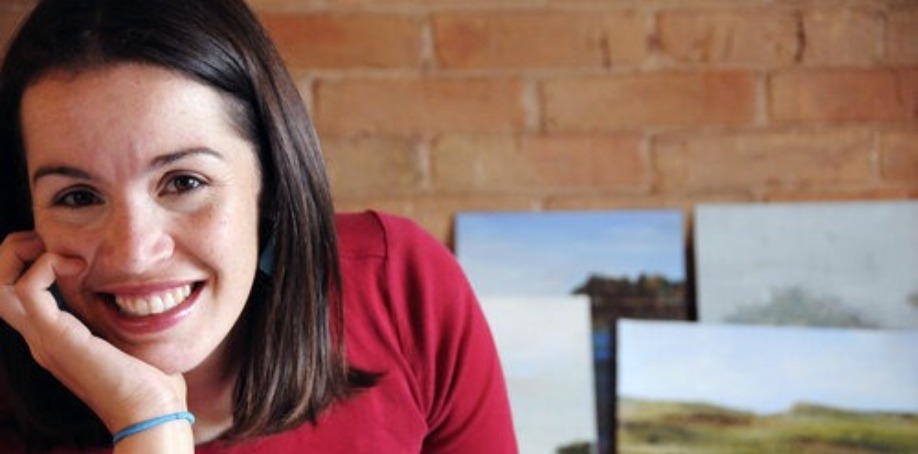 The arts and animals have played important roles in Jenna's life and her inspiration for her painting. She is a ballroom dancer, singer and avid listener of music. The image of Jenna floating across a ballroom floor matches the essence of the meaning of her name and often the subject of her work "Little Bird." Animals have been a part of Jenna's life since she was a kid growing up in England riding horses. When she moved to the US with her family, they of course brought their horse, he was part of the family.
"I've always enjoyed hiking and exploring, especially for waterfalls, but there's something utterly magical that happens when you come in contact with wildlife in its natural place. You suddenly remember you are the guest."
Jenna's own curiosity of the natural world has been well paired with the skills of her husband who is a great outdoorsman. He has been highly influential in helping Jenna appreciate life in the Rocky Mountains as well as in other parts of the world with their four kids.
"Everyone feels some connection to wildlife or wild spaces and has a story to tell with it. I've built up countless memories and experiences with those I love whilst among it, camping, hiking, fishing etc. I want to share that with others."
Jenna hopes to inspire people to get out into the mountains or the natural surroundings closest to them to experience something new. Through her paintings of "birds, beasts and bugs" she seeks to encourage people to notice a little more even if its a tiny bird or an insect next time they're out walking. Her work can only be a positive contribution to people being excited to experience nature and try to preserve it. People who live in all landscapes often find a connection to her work, because even in the biggest city you can pause to notice a butterfly, bee or tiny humming bird.
"Like our lives often seem to be, hummingbirds are also fast paced and there is something beautiful in trying to capture their stillness and unique colorful qualities--moments we often take for granted or miss within our own interactions with others."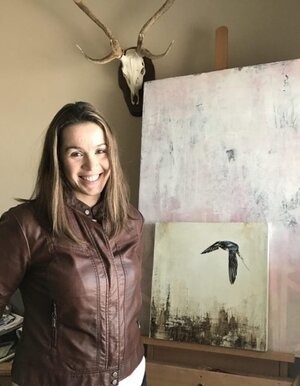 Born and raised in a small town north of London, Jenna moved with her family to the US in 2000. She lived in California and Illinois before settling in Utah. She has a Bachelors of Fine Art from BYU, where she also had the opportunity to study abroad in Florence, Italy. Her time abroad completely immersed in all kinds of works of art every day is one of the most impactful experiences on her as an artist. Her art is highly influenced by the colors she observes in nature and the places she has been, natural or urban.
"One of my first goals is to establish atmosphere, so my backgrounds involve a lot of time, layering abstract and linear design elements, subliminally suggesting the connections we make with each other and our natural world."
Jenna typically works with oils on a flat surface, often panels, which allows her to use a variety of tools and to push, pull & blend the oils together. As a mother who's studio space is their home, its also a good way to work on durable pieces with kids around!
Her backgrounds are stunning abstracts themselves that are carefully designed to influence the feeling and placement of the wildlife or subject she finishes the piece with. Each painting has several layers of paint with captivating patterns and textures.
" I strive more to capture the feeling of the animal or the story it can tell."